Despite the continuing challenges related to the pandemic, 2021 was a year filled with exciting progress for Cook MyoSite's clinical technologies.
AMDC Gets Its Generic Name
Cook MyoSite's lead investigational product, heretofore referred to as Autologous Muscle Derived Cells (AMDC), received the generic name iltamiocel. Generic names are the official, trademarked names of drugs, devices, and other products that you might see on an ingredients list – for example, ibuprofen is the generic name for the product marketed under the brand names Advil and Motrin. Keep an eye out for the new name in 2022!
Clinical Trials
2021 was an exciting year for iltamiocel with promising results in trials for a number of different muscle-related disorders.
Conferences
2021 was another shaky year for conferences due to pandemic-related cancellations and the challenges of virtual events, but Cook MyoSite was still able to attend a number of meetings to advocate for the next generation of muscle cell therapies. October, however, was a busy month with Cook MyoSite exhibiting at several conferences: Managing Vice President Ryan Pruchnic spoke at Meeting on the Mesa, the largest gathering of regenerative medicine industry leaders, sharing Cook MyoSite's novel insights regarding muscle cell therapies. The following week, Cook MyoSite presented data from a study on the economic burden of failed SUI surgeries at AMCP Nexus 2021, an annual gathering of managed care decision-makers.
At the International Continence Society's 2021 Annual Meeting, also in October, data from an interim analysis of a clinical trial investigating Cook MyoSite's iltamiocel for the potential treatment of fecal incontinence was presented. The abstract won Best in Category for Anorectal/Bowel Dysfunction.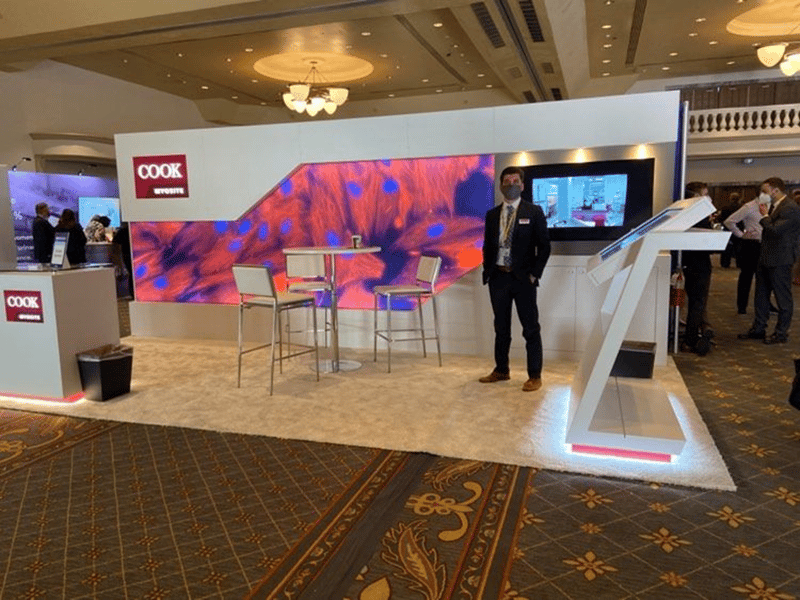 Product Manager Michael Griffin at Cook MyoSite's booth for the American Urogynecologic Society's Pelvic Floor Disorders Week.
Just a month earlier, Cook MyoSite attended the American Urological Association's 2021 Annual Meeting, where Dr. Melissa Kaufman (Vanderbilt University) and Dr. Michael Chancellor (William Beaumont Hospital) each presented data from Cook MyoSite's largest clinical study to date, a Phase III trial investigating iltamiocel for the potential treatment of Female Stress Urinary Incontinence (SUI).
New Ways to Connect with Cook MyoSite
In 2021, Cook MyoSite launched this blog, a YouTube channel, and a Twitter account. Give us a follow and make sure to subscribe to stay up to date on news, announcements, and offers!