This article was originally published to RegMedNet on June 16th, 2020.
In this interview, Stephen Westover (Cook MyoSite, PA, USA) discusses how 

Cook MyoSite

 worked with regulators to ensure the most appropriate endpoint for their
autologous 
cell therapy
  for  
female stress incontinence
.
Can you introduce yourself and tell us a little about your role at Cook MyoSite?
I am the Director of Regulatory Affairs at Cook MyoSite, Inc. and I am the point of contact for interactions with the health authorities regarding clinical investigations and product development. As we chart a path towards commercial licensing of our cellular therapy products, I oversee communications with and submissions to health authorities including Food and Drug Administration (FDA), Health Canada, and European competent authorities.
Tell us about Cook MyoSite's investigational cell therapy for female stress incontinence – how does it differ from the existing standard of care?
Our core technology is autologous muscle-derived cells (AMDC), which is a biological product consisting of a concentrated suspension of autologous skeletal muscle progenitor cells derived from muscle biopsy.
Incontinence is often the result of weakened or damaged muscles that control the release of urine. Our product is unique in that we target the repair and restoration of muscle function. Existing products on the market to treat female stress urinary incontinence (SUI), such as bulking agents, simply restrict the sphincter without repairing muscle function, and devices like slings reposition the bladder to attempt to reduce strain on the sphincter. Like bulking agents, slings do not attempt to repair the underlying musculature.
In contrast to existing products, our technology is intended to repair damaged muscle that might be causing the incontinence. When injected into the urinary sphincter, AMDC is expected to fuse with existing muscle fibers and encourage new muscle growth to repair the weakened sphincter with minimal side effects.
What is the importance of developing suitable endpoints for an investigational therapy?
Every therapy works differently, so it's critical that the endpoints established for a given therapy are measuring outcomes in a way that corresponds to the mechanism of action.
MyoSite studies are designed to measure incontinence episode frequency (IEF) or the number of incontinence episodes per day based on a trial participant-reported 3-day voiding diary. This endpoint corresponds to our understanding of the potential AMDC must repair and restore muscle function and the ability to control the release of urine. We also use quality of life surveys as secondary measurements because we see the impact to quality of life as a vital part of the clinical assessment.
What are the challenges of devising endpoints for transformative therapies and how might they differ from the endpoints for the existing standard of care (either pharmaceutical or surgical)?
Current endpoints for drugs are directed at improving symptoms of incontinence and not treating stress incontinence. Current standards of care, such as slings and bulking agents, aim to alleviate those symptoms through a structural action, so the endpoints for those therapies correspond to that.
As we are intending to treat female SUI through a biologic mechanism of action to improve the disease state overall, this is mostly uncharted territory, so our endpoints need to be different than the existing therapies.
The endpoints that we developed through the AMDC clinical program were modified after our Phase II trial to correspond to the biologic mechanism of action. For one example, currently approved drugs used an IEF measurement of 50% reduction. AMDC is using a measurement of 75% reduction. That increased reduction percentage can allow us to demonstrate a strong separation between the placebo group and responder group.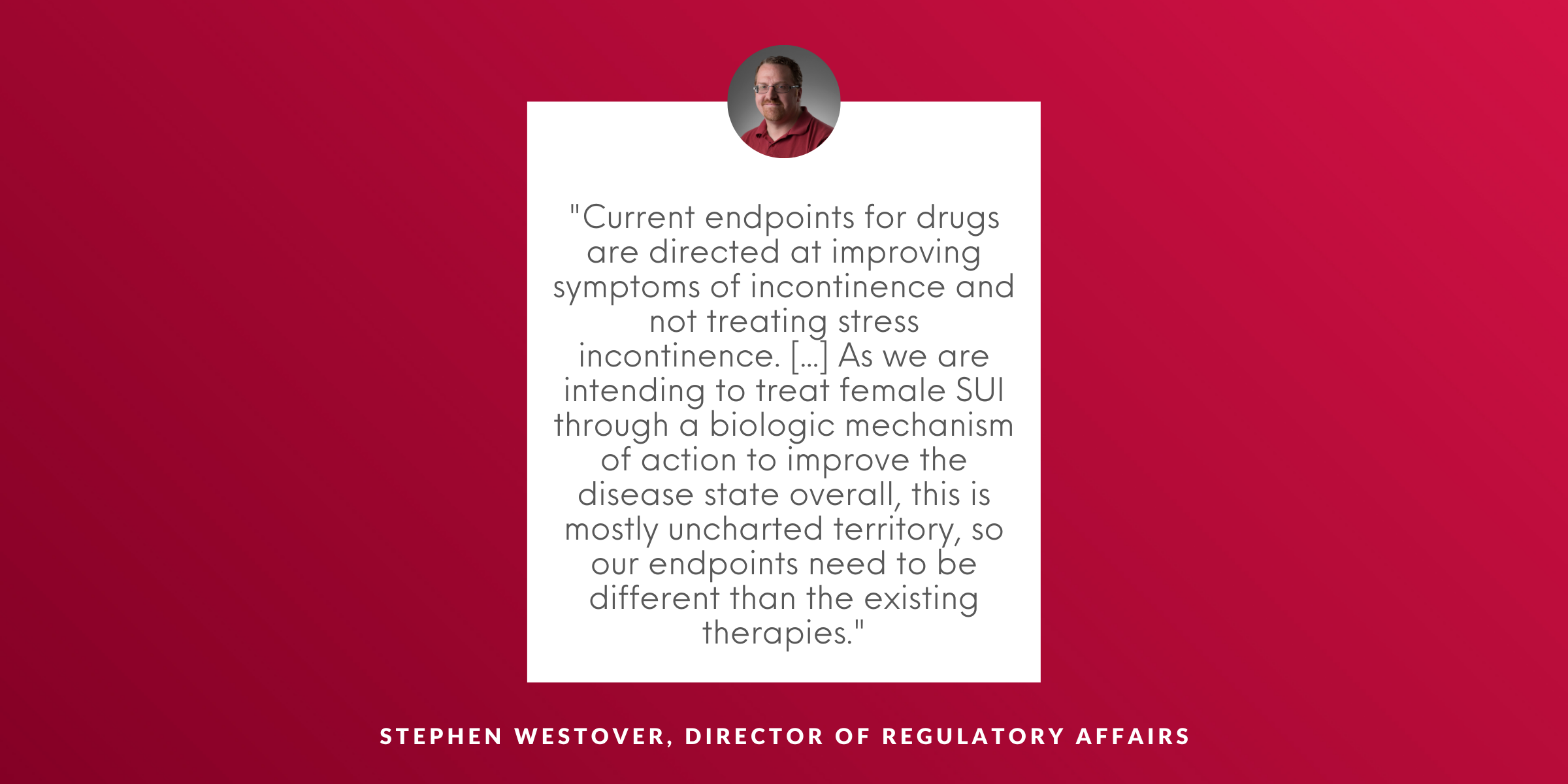 How have you worked with regulators on developing appropriate clinical trial protocols for your investigational therapy?
Each region in which we have clinical trial sites has offered different feedback that has influenced our clinical development program and over time. When establishing our IND in the United States in 2006, there were many discussions with FDA on design of a clinical study for a cell therapy for stress urinary incontinence. The end of Phase II (EOP2) meeting conducted in 2012 also provided further clarification on expectations. At the EOP2 meeting, the FDA recommended that primary efficacy not be based on just pad weight, a single measurement of the weight of a pad worn by an incontinence patient, but also on IEF.
Voiding is impacted by diet and exercise and can contribute to variation in a single pad weight data collection. By also assessing the daily average from a multiday diary, we can generate more accurate and reliable data.
How could your chosen endpoints impact on the ultimate regulation and patient/provider adoption of your therapy?
Our endpoints, specifically the 75% IEF reduction threshold, will allow us to demonstrate a high level of confidence in our technology. We believe that this is necessary for patients and providers to adopt regenerative therapies that claim to treat, modify, reverse, or cure underlying conditions.
In simple terms, if we're presenting this technology as a potential alternative to the insertion of foreign products or regular drug regimens, that's great – but we want to be sure that it's safe and that it works.
What advice would you give to developers designing their own clinical trials for transformative therapies?
Foster a strong relationship with health authorities and discuss any trial design questions or issues as soon as possible. Remember, agencies are your ally. Many agencies have processes that encourage meetings early in development to discuss clinical trial design. When conducting a trial, there is understanding and knowledge gained by the sponsor that can result in slight changes to trial design over time. Don't be afraid to make changes if there is appropriate rational justification and understanding on impact to previous studies.
It's important to have trial design finalized prior to conducting Phase III studies, and it's also important to have a thorough EOP2 meeting. Sponsors can ask for separate EOP2 meetings for clinical versus Chemistry, Manufacturing and Controls (CMC). With a split meeting, clinical and CMC can each get the attention needed to finalize plans. Don't be afraid to be innovative in trial design.
Is there anything else you wish to add?
Cook MyoSite is hoping that the stratified analysis of our first pivotal study will be sufficient for submission of BLA and approval. We are pursuing Regenerative Medicine Advanced Therapy (RMAT) Designation for a subpopulation of the female SUI population who have moderate to severe recurrent stress incontinence after surgical treatment. This group suffers from a serious condition with an unmet medical need. Receiving RMAT designation would allow Cook MyoSite to offer our product to this population more quickly. We are in the final stages of data analysis and plan to submit our RMAT application soon. [NOTE: Cook MyoSite applied for and obtained the FDA's RMAT designation in December 2020.]
How should people contact you if they wish to?